College Performance Measurement Framework
"How well are Ontario's regulatory health colleges protecting the public interest?" This is the question the Ontario Ministry of Health asked health profession regulators to answer when it developed the College Performance Measurement Framework (CPMF).
College of Opticians of Ontario CPMF Reports
View the 2022 CPMF Report Here:
Highlights from the 2022 CPMF Report
Throughout 2022, the COO continued to demonstrate its commitment to public protection, transparency, and strong governance.
In 2022, the COO reported that it met, or partially met, all 50 measures identified by the Ministry of Health. Of these measures, 94% were fully met, and 6% were partially met. This represents an overall improvement over the 2021 report, where 88% of the measures were fully met, and 12% were partially met: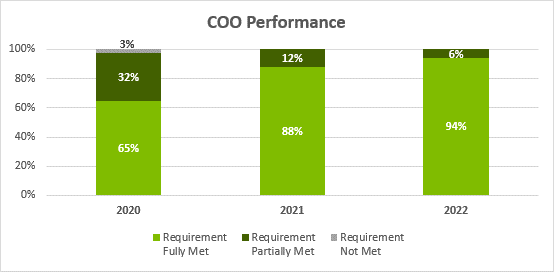 Key achievements in 2022 included:
Approval of a new Strategic Plan for 2023-2025. The Strategic Plan was developed following extensive consultations with system partners, including surveys, focus groups and interviews, to ensure that the COO's strategic priorities are relevant to the current practice environment and take into account changing patient expectations and professional trends.
Completion of the board's first third-party effectiveness evaluation, and a commitment to undergo the process every three years.
Working with opticianry regulators across Canada to organize and host a Professional Roundtable event where over 60 representatives of opticianry stakeholder groups met in Toronto to discuss mutual challenges and opportunities for collaboration.
Continued efforts to streamline registration processes, including working with Canadian Opticianry regulators to develop and pilot a Pre-Arrival Readiness Tool for internationally educationed/trained applicants.
Health Regulatory Colleges Exist to Protect the Public Interest
To help the public understand how well colleges are doing their job and to help continually improve accountability, transparency and oversight, all colleges are reporting on their work in the CPMF Reporting Tool. The new tool was developed by the Ministry, together with Ontario's health regulatory colleges, subject matter experts and the public.
The CPMF covers a wide variety of topics, including how colleges:
perform as an organization

register applicants

measure practice improvement of regulated health professionals

process complaints about their registrants
This CPMF provides information on how colleges work with external partners, such as other regulatory colleges, educational programs and the broader healthcare system to improve public protection.
The CPMF also shares raw data about Ontario's regulated health professionals and their participation in practice improvement. There is data about the number of complaints and the type of those complaints, and how many health professionals participated in practice improvement activities. Finally, the CPMF details each college's commitment to making improvements over the next year, giving clear action/improvement plans.
Colleges will update this report annually, noting any progress on areas identified for improvement or adding new or updated information required by the Ministry of Health. These reports are one of the many ways colleges demonstrate their commitment to the public interest for the people of Ontario.